Join Us As We Help Sponsor: Crafting an Artful Home Interior Design Series At Kimball Jenkins Estate & School of Art
You're invited to the
Kimball Jenkins Estate & School of Art
is pleased to team up with NH based Interior Designers and Stylists for a five-part series exploring creative design solutions that will work for your home.
This is a five part series, each session goes from 6-8 p.m. which begins with a lecture and ends in the Mansion with hands-on examples, a chance to talk with the featured designer, and a light cocktail reception. Join us for a lovely series!
---
April 10th – Decorate a Room Around Your Favorite Piece of Artwork
Shawna Taylor, Taylored Interiors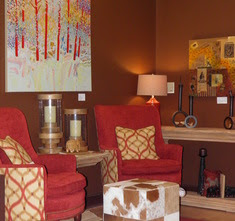 Art can provide the inspiration to create an environment that reflects your individual taste and personality. Your room is your 'blank canvas', Shawna will draw design inspiration from a favorite piece of art. Students will see how to dissect a piece of artwork to identify colors, texture, and style to create a color palette and design an entire room. Your art will look better and have a greater impact in your room when the decor "supports" the art versus "match" the art.   We will discuss ways to get inspired, support the art and get your room "Taylored" to perfectly fit you.
 
---
April 17th – Contemporary Art in a Traditional Home: How to Make it Work
Sarah Chaffee, McGowan Fine Arts
Sarah often hears "I love contemporary art, but it wouldn't work in my home, it's too traditional", sound familiar? Our host, will talk about creating a 'collected' room, one that appears to have developed over time. Achieving this look isn't done by carefully matching periods, rather it's about mixing the old and the new. Sarah will teach you where to start, what to look for, and how to create a cohesive look between your more traditional furnishings and finishes and with abstract or contemporary art.
---
May 1st – Mixing Colors and Patterns Like a Pro
Donna Boerner, DB Interiors
Combining patterns and colors brings excitement and a professional look to a room. It can be difficult to know where to start, Interior Designer, Donna will teach you tips and tricks to match colors and patterns in your own home. You will learn about repeating colors, textures, and patterns throughout your space, and mixing scales of patterns, all to create a fabulous designer look.
---
May 8th – Liven Up Your Space with a New Way of Looking at Art
June Trisciani, J. Ellen Designs
Art takes many forms, it can be a painting, a favorite photograph or even a sculptural object.  Art isn't always traditional — it can be serious or whimsical The key is finding the piece or pieces you love and finding the best way to them in your home.  Join us for an evening with Interior Designer June Trisciani, owner of j. ellen Design, LLC as we look at ways to use artwork to liven up your living space and create your story. Attendees are encouraged to submit photos ahead of time for June to provide suggestions on, photos can be sent to karinalkelley@gmail.com or brought the night of.
---
May 15th – Backyard Style
Apply Interior Decorating Ideas to an Outdoor Living Space
Matthew Mead

BACKYARD STYLE shows you just how to take interior decorating ideas and apply them to an outdoor living space. Matthew is known for styling beautiful spaces using vintage and recycled flea market finds, nature's offerings and what is at hand. Join Matthew for hands-on designer tips and tricks to update and personalize your space.
---
A big thank you to our Event Sponsors!!